I'm a big fan of music when I'm drafting a novel – I have playlists for all of my projects, and I listen to them when I'm writing or thinking about my book. It helps me get really excited about my characters and see things from their point of view. When I was writing Green Rising, I listened to one band in particular – The Amazing Devil.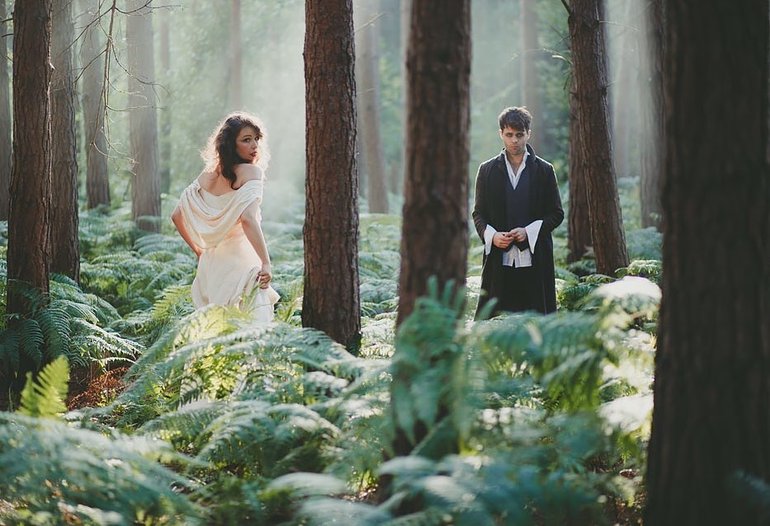 The book is told from alternating points of view between Theo and Hester, who start off as enemies and then fall in love. The band is a male and female duo, and a lot of their songs are angry duets where they're yell-singing at each other. It fit Theo and Hester's dynamic perfectly, and I typed out a lot of fast-paced arguments to their album.
Here's my playlist for Green Rising, which includes more than a few The Amazing Devil songs, as well as others which resonated for me with the story. Hester's complicated relationship with her father is represented in a lot of these, as well as Gabrielle's chaotic law-breaking activism, and Edgar's capitalistic space-race misdeeds. Enjoy! You can listen on Spotify here (or add me as a friend!).

Pruning Shears by The Amazing Devil

So we're at this shindig everything's going on they're so filthy rich
Comparing oil rigs, how their girlfriend's new car is so kitsch
And they're discussing champagne
The latest and greatest lame campaign, and how their brothers own shares one
Day it'll make them millionaires

Vienna by Billy Joel

Slow down you crazy child
You're so ambitious for a juvenile
But then if you're so smart tell me,
Why are you still so afraid?

Wasteland, Baby! by Hozier

And when the stance of the sea and the absence of green
Are the death of all things that are seen and unseen
Not an end, but the start of all things that are left to do?
Wasteland, baby

1 step forward, 3 steps back by Olivia Rodrigo

It's always one step forward and three steps back
Do you love me, want me, hate me?
Boy, I don't understand

Seashore by The Regrettes

You're talkin' to me like a child
Hey I've got news, I'm not a little girl
You're talkin' to me like I'm dumb
Well I've got news, I've got a lot to say
Fight fire with fire and you'll get burned
Hey I think right about now is your turn

Farewell Wanderlust by The Amazing Devil

All those letters unsent and that garden ungrown
I'm the captain of courage that you've eternally lacked
Our Gods have abandoned us, left us instead
Take up arms, take my hand, let us waltz for the dead

Riptide by Vance Joy

Oh, all my friends are turning green
You're the magician's assistant in their dream
Lady, running down to the riptide
Taken away to the dark side
I wanna be your left hand man

The Horror and the Wild by The Amazing Devil

Welcome to the storm, I am thunder
Welcome to my table, bring your hunger
Think of all the horrors that I promised you I'd bring

The Quittin' Kind by Eleisha Eagle

There's a corner you painted yourself in
I'm not sure what was your intention?
Now you're trapped alone on an island and you can't swim
Take it nice and slow my baby
Everything is OK and you're doin' fine
You're not the quittin' kind

Home by Cavetown

Get a load of this train wreck
His hair's a mess and he doesn't know who he is yet
But little do we know, the stars
Welcome him with open arms

Papa Was a Rodeo by The Magnetic Fields

Before you kiss me you should know
Papa was a rodeo
Home was anywhere with diesel gas

Restless Year by Ezra Furman

I'm the dusty jewel in the thrown-out crown
Got a bus pass to make my way
From hideout to hideout in the heat of the day
And when you catch my coattails I'll be miles away

Battle Cries by The Amazing Devil

Our devils broke rank and out of the depths came an army
And as I walk away I know that I've been through the wars
But that creaking you hear in my bones, it's not pain, it's applause

The Fine Print by The Stupendium

The conglomerate's got you in lock and key
We put the dollar back into idolatry
If you're upset, you can rent an apology
We are a family forged in bureaucracy
No "I" in "team, " but there's "con" in "economy"

London Boy by Taylor Swift

You know I love a London boy
He likes my American smile
Like a child when our eyes meet, darling, I fancy you